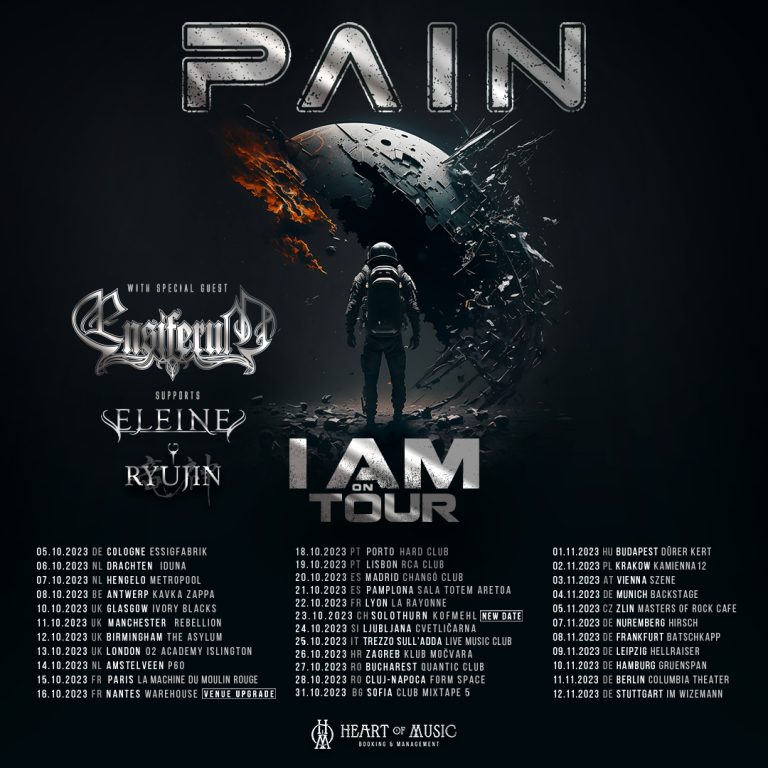 RYUJIN [竜神]
, formerly known as
GYZE
, is now back on tour in Europe! Having performed numerous shows on European soil in the past couple of years, the Japanese Metal band is returning as support band for
Peter Tägtgren
's Industrial Metal project
PAIN
(Sweden). Also joining the extensive
PAIN "I Am" European Tour 2023
with a blasting 33 tour stops in 17 countries are
ENSIFERUM
(Folk Metal, Finland) as special guest and
Eleine
(Symphonic Metal, Sweden).
Hailing from Hokkaidō, Northern Japan,
RYUJIN
call their blend of music
›Samurai Metal‹
and are incorporating traditional Japanese themes and tunes to their classic Metal mix. Like with their music, the band draws on Japanese folklore and legends for their new name: Ryūjin [龍神 / 竜神], the ›dragon god‹ is the tutelary deity of the sea in Japanese mythology and symbolizes the power of the ocean. The tales vary, yet in many of them, Ryūjin is considered the bringer of rain and thunder.
Exceedingly fitting,
RYUJIN
's first single release under the new name,
Raijin & Fujin [雷神と風神]
, refers to the god of thunder and the god of wind. For the song,
RYUJIN
have been collaborating with
TRIVIUM
's
Matthew K. Heafy
, who has become the band's manager and producer since
RYUJIN
signed with Napalm Records on the 31st of January, 2023. For their upcoming self-titled album
RYUJIN [竜神]
, which is scheduled to be released on the 12th January, 2024, the Metal band promises to pair their high-speed riffs with traditional Japanese elements, delivering a sound influenced by everything from ancient orchestral Gagaku to even modern anime themes.
Check out the tour dates to experience
RYUJIN
's powerful performance live on tour!
Tour Dates PAIN "I Am" European Tour 2023
10/05 – Essigfabrik, Cologne, Germany
10/06 – Iduna, Drachten, Netherlands
10/07 – Metropool, Hengelo, Netherlands
10/08 – Kavka Zappa, Antwerp, Belgium
10/10 – Ivory Blacks, Glasgow, United Kingdom
10/11 – Rebellion, Manchester, United Kingdom
10/12 – The Asylum, Birmingham, United Kingdom
10/13 – O2 Academy Islington, London, United Kingdom
10/14 – P60, Amstelveen, Netherlands
10/15 – La Machine du Moulin Rouge, Paris, France
10/16 – Warehouse, Nantes, France (venue upgrade)
10/18 – Hard Club, Porto, Portugal
10/19 – RCA Club, Lisbon, Portugal
10/20 – Changó Club, Madrid, Spain
10/21 – Sala Totem Aretoa, Pamplona, Spain
10/22 – La Rayonne – Lyon, France
10/23 – Kofmehl, Solothurn, Switzerland (new date)
10/24 – Cvetličarna, Ljubljana Slovenia
10/25 – Live Music Club, Trezzo sull'Adda, Italy
10/26 – Klub Močvara, Zagreb, Croatia
10/27 – Quantic Club, Bucharest, Romania
10/28 – Form Space, Cluj-Napoca, Romania
10/31 – Club Mixtape 5, Sofia, Bulgaria
11/01 – Dürer Kert, Budapest, Hungary
11/02 – Kamienna12, Krakow, Poland
11/03 – Szene, Vienna, Austria
11/04 – Backstage, Munich, Germany
11/05 – Masters of Rock Cafe, Zlin, Czechia
11/07 – Hirsch, Nuremberg, Germany
11/08 – Batschkapp, Frankfurt, Germany
11/09 – Hellraiser, Leipzig, Germany
11/10 – Gruenspan, Hamburg, Germany
11/11 – Colombia Theater, Berlin, Germany
11/12 – Im Wizemann, Stuttgart, Germany