MIYAVI
's Berlin audience is on fire as soon as the solo artist enters the stage of the city's legendary venue SO36 this Wednesday, 27th of September. Joyful excitement sweeps through the fans, who have flocked from all sorts of places, not just Germany. They are wearing a range of
MIYAVI
t-shirts from previous tours and are already hyped when
MIYAVI
kicks off his show with a guitar-heavy
Selfish Love
and
WHAT'S MY NAME?
, swearing in his fans. With the
Return of the Samurai Guitarist: 20th & Beyond Tour 2023
, the musician, internationally acclaimed as
›samurai guitarist‹
, celebrates the 20th anniversary of his solo career. Nobody cares that his solo debut was already in 2002 and that the celebrations started with a successful US tour last year. Heated up by one banger after the other, everyone is excited to welcome
MIYAVI
back in Europe—four years after his last visit and a way too dire pandemic austerity.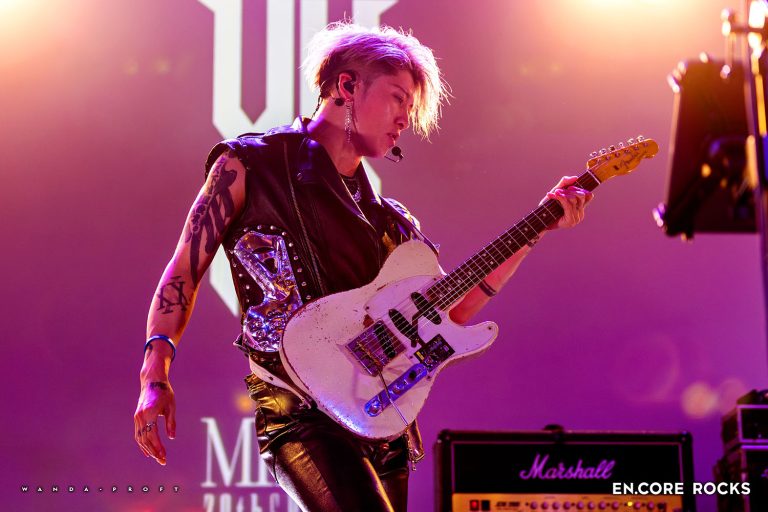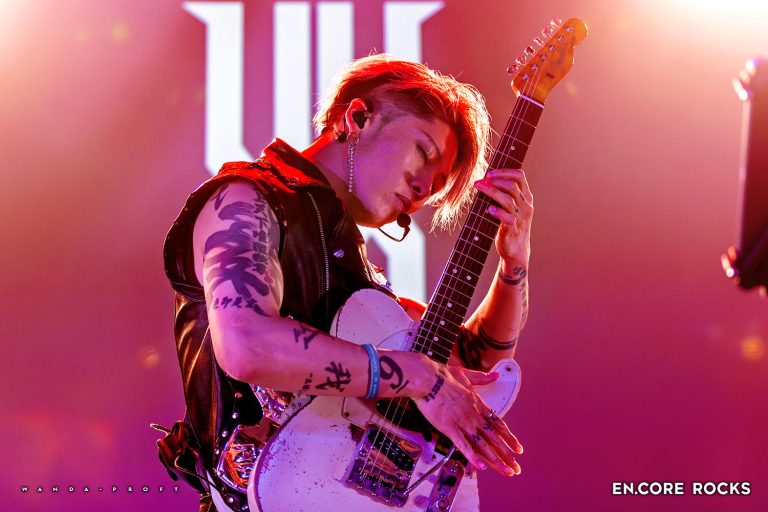 Known for his unique slapping guitar style, MIYAVI sure knows how to push his fans further and further with every song. Accompanied by drummer Anthony Lopez and DJ Jonny Litten, who have joined prior tours, he allows the rhythm to explode and rapture through the audience. The atmosphere is superb, with the audience gladly following the request to jump during SURVIVE and when they sing along for Ahead of the Light. It only accelerates with the danceable songs So On It and In Crowd.
»We all survived the fucking covid,« MIYAVI addresses his audience while preparing for the next song, talking about the power of music: »I realized how strong music is. The virus is invisible. Our future is invisible. But music is invisible, too. Let's celebrate the music tonight!« Nobody holds back anymore—and, oh, do the fans understand the assignment when the lyrics of Secrets say: »This is the time to scream!« The song seems to unlock something. For some, it might be pure adoration, yet in the large crowd, the sexual words become the intense joy of sharing the concert vibe with the musicians on stage and hundreds of fans.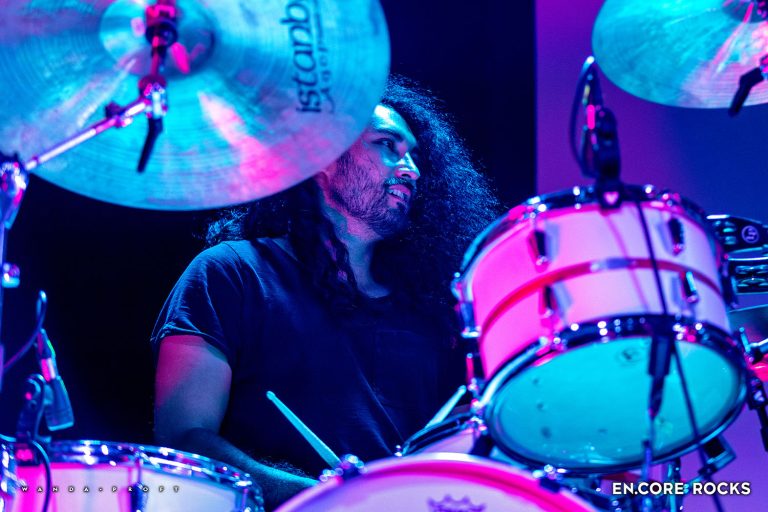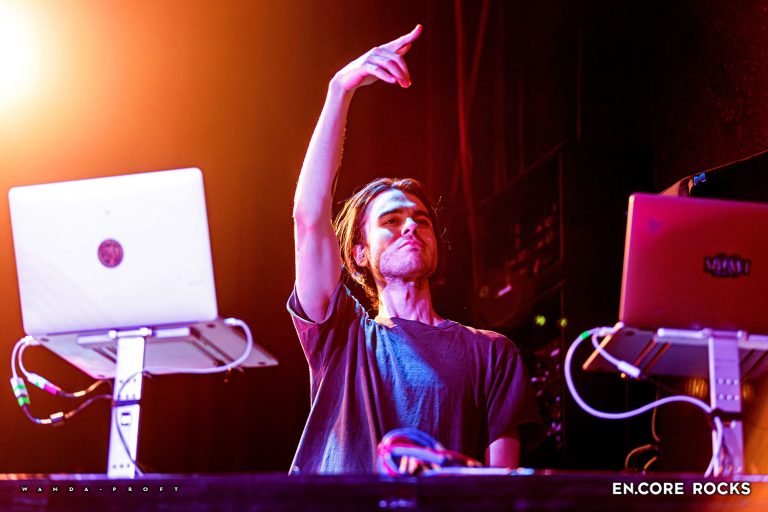 Yet, in all the bliss, MIYAVI also manages to shift the conversation towards a difficult subject by talking about the experience of refugees. As a goodwill ambassador to the UNHCR, MIYAVI has visited several refugee camps in different parts of the world during the past several years. Now, in Berlin, he mentions those fleeing the war in Ukraine and acknowledges the support they receive in neighboring countries. »Thank you so much,« he adds, »for your generosity. What Germany is doing is amazing.«
He elaborates that he feels he can't do much or change the world by visiting refugee camps. »But with your help, I can amplify the message.« And personally, I can't say what has changed—whether it's the more profound understanding for people fleeing war and atrocities after Russia attacked Ukraine or MIYAVI's tireless efforts to bring attention to people on the move or simply all of us getting older,—but I've never experienced so many people in an MIYAVI audience understanding and supporting what he is talking about. It warms my heart and makes listening to Long Nights, a song written based on the experiences of refugees being displaced from their homes, even more special this night.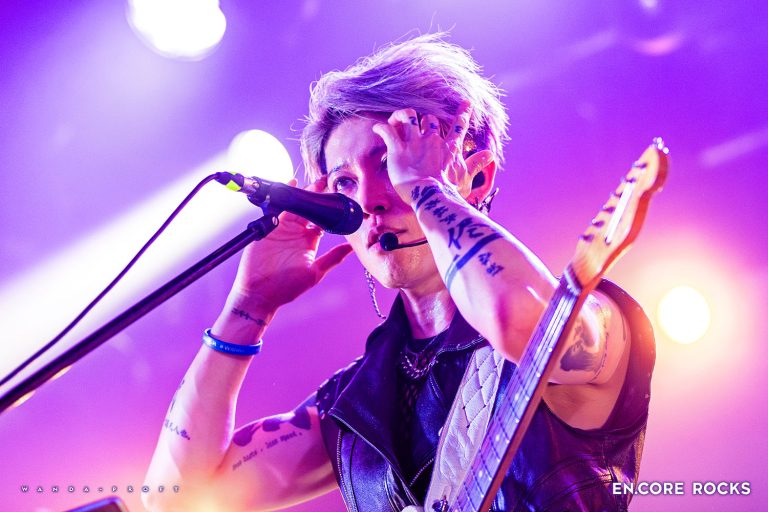 Also the tight bond between
MIYAVI
and his fans is tangible and has only grown in the past few years. »I'll still listen to his music when he's 60,« a fan behind me whispers to her friend after
MIYAVI
sits down with a half-acoustic guitar, pensively revealing that he sometimes wonders if he should keep performing. He lets water be passed to the fans and promises to continue »as long as I have you, my fans. It's not big, but I wanna share: When you go out of the venue, I want you to be energized.«
MIYAVI
starts to play
Under the Same Sky
. Yet, the calming vibes spreading among the audience are compassionately interrupted when shouts for a paramedic get louder. Someone needs assistance, probably due to the heat, and everything stops until the person is carefully led out of the crowd by two paramedics. Only then,
MIYAVI
starts again and lets
Under the Same Sky
and
Kimi ni Negai wo [君に願いを]
unfold their healing powers.
The evening continues with the diverse audience appreciating the fan favorites as much as nostalgic songs and recent material. Some appear to be around from the very beginning, welcoming the artist's thriving
Visual-kei
era pieces like
Hi no Hikari Sae Todokanai Kono Basho de [陽の光さえ届かないこの場所で]
and
Sakihokoru Hana no YouNi -Neo Visualizm- [咲き誇る華の様に -NEO VISUALIZM-]
, but also the song
Girls, be ambitious.
, with which everything started back in the day. With the same enthusiasm, they celebrate the newer songs
Fire Bird
,
New Gravity
from
MIYAVI
's latest album
IMAGINARY
, the joyful
No Sleep Till Tokyo
with such a fun guitar, and
Horizon
, which concludes the main set. The songs keep coming beyond what's usually expected, with everyone partying hard like—no matter how much we've matured—we were all still 16.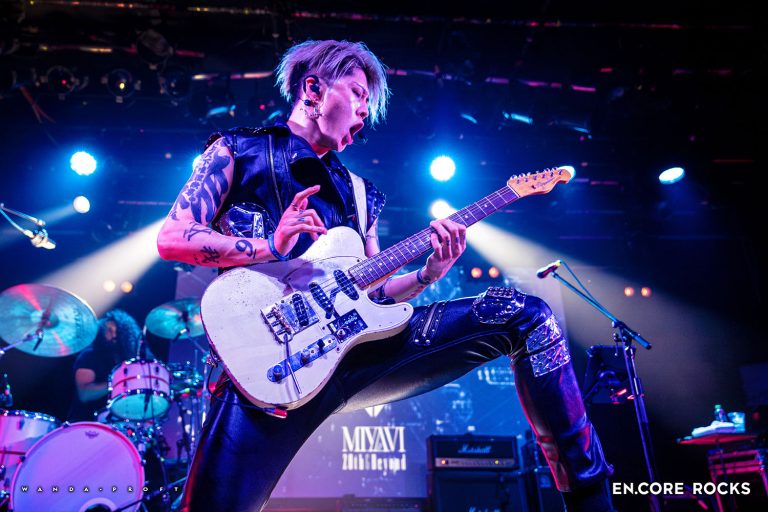 A four-song-long encore completes this two-hour ride through 20, well, 21 years of
MIYAVI
's fabulous music. On
Subarashikikana, Kono Sekai -WHAT A WONDERFUL WORLD- [素晴らしきかな、この世界 -WHAT A WONDERFUL WORLD-]
follows a rockier version of
Under the Same Sky
. Then, once again,
MIYAVI
reminds his audience of the power of music in the face of many hardships: »In this world, we still have conflict, we still have wars. But we also have the power of music that unites us.« The audience chimes in for
The Others
, making the song's meaning felt: »We are the others, the dreamers and the lovers. […] Instead of rifles, we play guitars, sing for survival, that's just who we are.«
SETLIST
01. Selfish Love
02. WHAT'S MY NAME?
03. SURVIVE
04. Ahead of the Light
05. So On It
06. In Crowd
07. Secret
08. Cry Like This
09. Tears on Fire
10. Long Nights
11. Under the Same Sky
12. Kimi ni Negai wo [君に願いを]13. Girls, be ambitious.
14. Hi no Hikari Sae Todokanai Kono Basho de [陽の光さえ届かないこの場所で]15. Sakihokoru Hana no YouNi -Neo Visualizm- [咲き誇る華の様に -NEO VISUALIZM-]16. Fire Bird
17. New Gravity
18. No Sleep Till Tokyo
19. Horizon
ENCORE
E1. Subarashikikana, Kono Sekai -WHAT A WONDERFUL WORLD- [素晴らしきかな、この世界 -WHAT A WONDERFUL WORLD-]E2. Under the Same Sky
E3. The Others
E4. Day 1
The people who have gathered here tonight are more than a coincidental union of individual fans and small groups sharing the admiration for a musician, actor, and humanitarian who has undoubtedly helped them get through tough times. They are a community invoking the impression of a celebratory class reunion, gathering in kindness and mutual respect.
We have all matured, haven't we? A scene that, in my personal experience, is all too often driven by superficial and selfish needs has now come together in empathy, shared values, and joy. This goes beyond the power of music. It's the will of a creative teaching self-love as much as the compassion for others and people willing to listen and amplify the message.
As I'm heading home, I'm not only energized. I'm grateful and encouraged as I have more faith in our scene and in humanity now—thanks to
MIYAVI
, but even more thanks to all you wonderful peeps in the audience.