We are looking back to the 19th of February, kick-off to Ningen Isu's first European tour in the concert hall Lido in Berlin. The band was tense before their show, wondering if their music would appeal to the local audience. Little did the musicians know how eager the fans were waiting for them.
The merchandise was already reduced to a minimum even before the concert began and the venue filled up more and more with excited fans. In the front rows, traveled Japanese supporters in full fan gear were watching the buzzing crew finalizing the stage set-up. Behind them a growing crowd of keen first-timers. The night was set to be a promising one!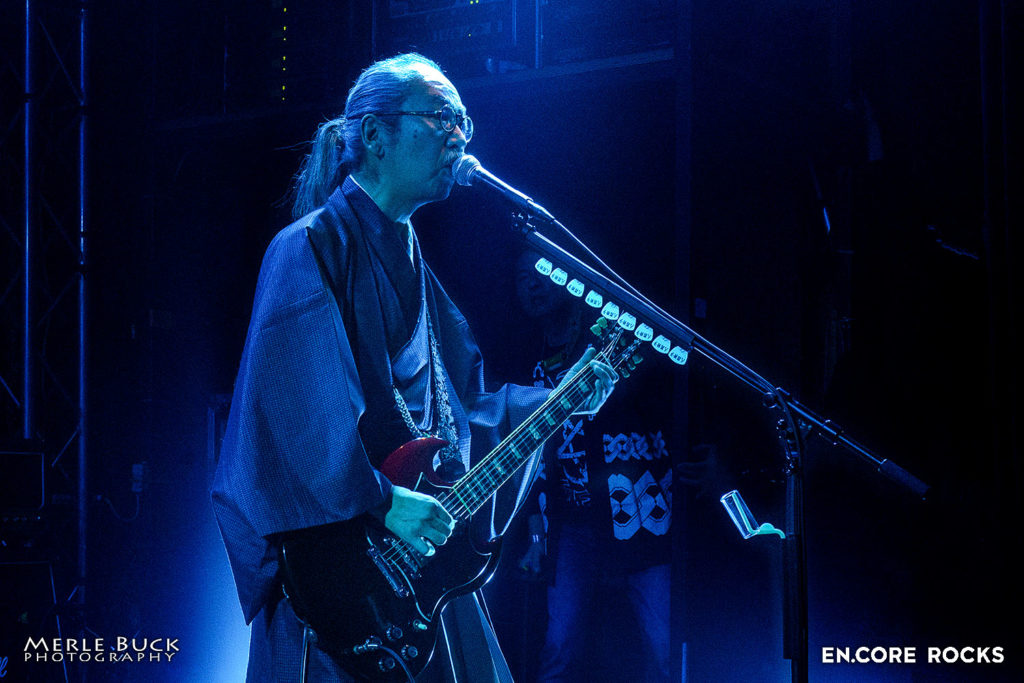 Tenseness vanished into commotion when guitarist and vocal Shinji Wajima, bassist and vocal Kenichi Suzuki, and drummer Nobu Nakajima entered the stage. Already the first song this evening, Uchu kara no Iro [宇宙からの色] (The Color out of Space), left no doubt how much the band deserves devotion for their skills and thirsty years long career.
Ningen Isu were revered by their fans from the very first tunes and newcomers knew immediately why. The band's melodies are second to none. Guitar and bass are perfectly geared to each other, creating goosebumps on the listeners. At the latest when Wajima and Suzuki started to sing together, the audience was convinced of the musicians' talents and understood why Wajima is celebrated as a guitar master in Japan. Drummer Nakajima spared no effort either and even brought his gong, which, of course, he used constantly.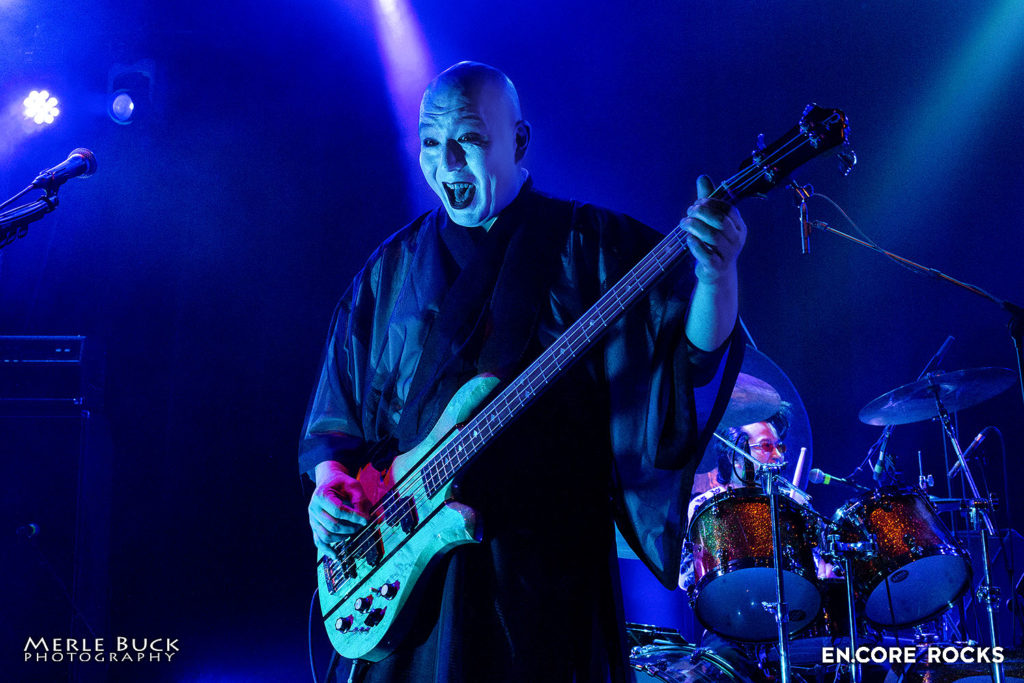 The song Mujou no Scat [無情のスキャット] (Heartless Scat) has received a lot of recognition online and became a famous showpiece of the band. The vibrating sound sank deep into the people's minds and convinced them with its particular diversity. Without a surprise, Mujou no Scat was widely celebrated live in Berlin as well and everyone was singing along: »Shabadabadia Shabadabadia Babababa!«
As an encore, Ningen Isu played the song Namahage [生剥]. Anyone who has been thinking of the summoning of a demon here was absolutely right. Namahage are demonically dressed men with straw coats and masks mimicking oni, a type of yōkai (ghosts in Japanese folklore) that cautions lazy and bad behaving children.
Not only is the music from Ningen Isu incredible, though, but so is the stage presence. Nakajima presents the ease of a Japanese rockabilly while Suzuki looks like the ghost of a Buddhist priest who is up to mischief. Wajima's countenance is extraordinary and he dresses very traditionally in the typical attire of a swordsman.
Berlin experienced Ningen Isu's thirty years of talent that evening. Over thirty years, to be precise. Founded in 1987 by the high school classmates Wajima and Suzuki, the band went major in 1990 with their second album Ningen Shikkaku [人間失格] (No Longer Human). After a few drummer changes, Nakajima became a permanent band member in 2004.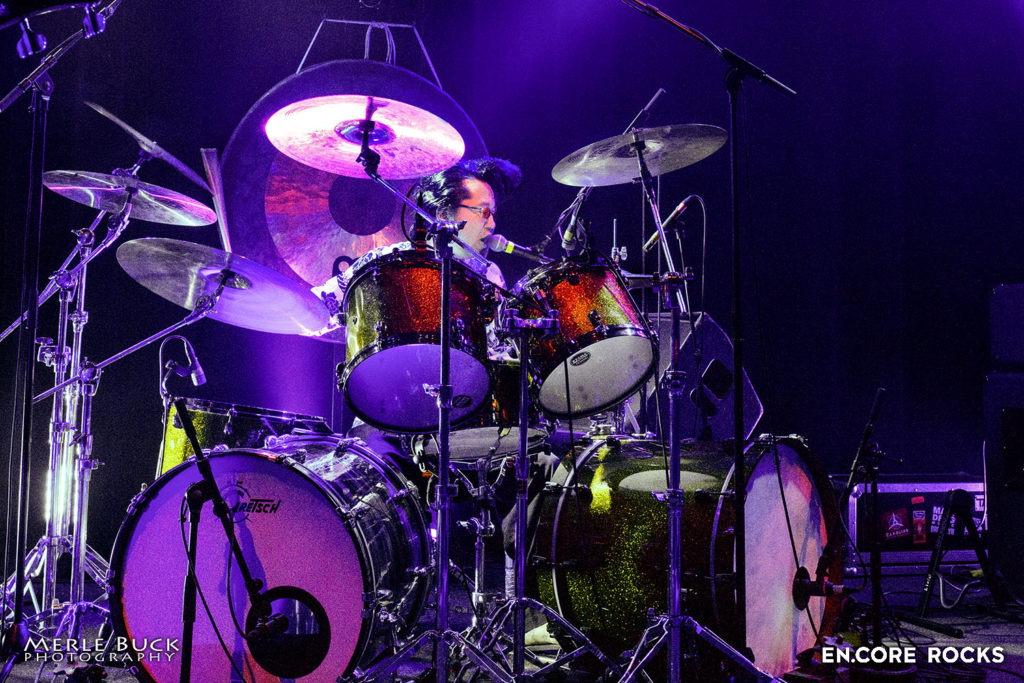 SETLIST
01. Uchu kara no Iro [宇宙からの色]
02. Ringo no Namida [りんごの泪]
03. Rashoumon [羅生門]
04. Shinigawa Shinju [品川 真珠]
05. Mujou no Scat [無情のスキャット]
06. Inochi urimasu [命売ります]
07. Senrei [洗礼]
08. Hoichi Junan [芳一受難]
09. Shin'en [深淵]
10. Jigoku Kozu [地獄小僧]
11. Jigoku [地獄]
12. Yuki Onna [雪女]
13. Hari no Yama [針の山]
ENCORE
E1. Namahage [生剥]
Ningen Isu incorporate Japanese and international literature into their music as well as religious and secular themes such as Buddhist subjects, samurai culture, or gambling. In fact, their band name Ningen Isu [人間椅子], which means ›Human/ Chair‹, is derived from a 1924 short story of Japanese author Rampo Edogawa.
On top of that, the co-lead-vocals Wajima and Suzuki sing in their local Tsugaru dialect, adding more nuances to their songs. But even the non-Japanese speaking part of the audience enjoyed their music to the fullest.
Though
Ningen Isu
have thirty years of musical experience under their belt, they brought a breath of fresh air to the European scene. We are looking forward to seeing them again!