DIR EN GREY TOUR20 THIS WAY TO SELF-DESTRUCTION—Paris
2020FebruaryFeb 08 00:00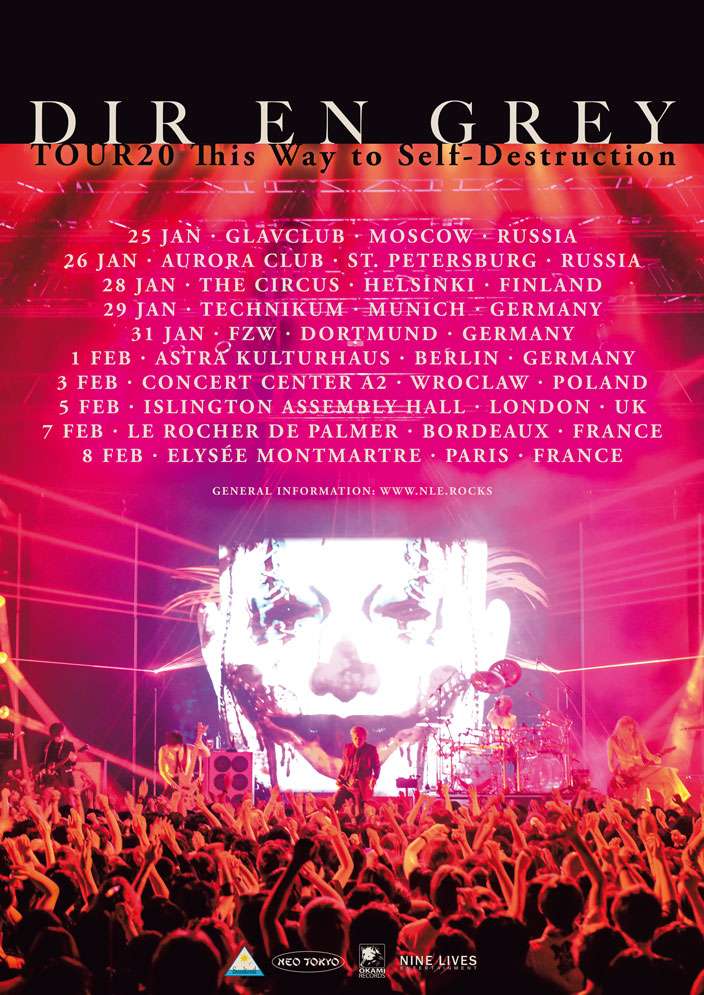 DIR EN GREY are going to conquer European realms once more with their TOUR20 This Way to Self-Destruction. Only a bit more than a year after shaking several countries to the core on last year's TOUR18 WEARING HUMAN SKIN, the masters of the bizarre, the uncommon, and the uncanny are returning to Europe to reclaim the stages with full force!
From January to February, 2020, DIR EN GREY will be proving one more time that they can go even harder, facing the stages and their fans head on with a selection of their energetic and powerful songs.
On September 18th, 2019, the band released their latest single The World of Mercy—available worldwide—, simultaneously dropping a sinister take on bullying with the song's music video. Check it out!
NINE LIVES ENTERTAINMENT

Organizer of DIR EN GREY TOUR20 THIS WAY TO SELF-DESTRUCTION—Paris
Event expired
Event is in progress
Location
Elysée Montmartre, 72 Boulevard de Rochechouart, Paris, France
Schedule

Guests

Attendance

Forecast

Comments
Weather data is currently not available for this location
Weather Report
Today stec_replace_today_date
stec_replace_current_summary_text
stec_replace_current_temp °stec_replace_current_temp_units
Wind stec_replace_current_wind stec_replace_current_wind_units stec_replace_current_wind_direction
Humidity stec_replace_current_humidity %
Feels like stec_replace_current_feels_like °stec_replace_current_temp_units
Forecast
stec_replace_date
stec_replace_icon_div
stec_replace_min / stec_replace_max °stec_replace_temp_units
stec_replace_5days
Powered by Forecast.io