DEVILOOF "BEYOND PROOF" EUROPE TOUR 2020 - Budapest
2020MayMay 06 00:00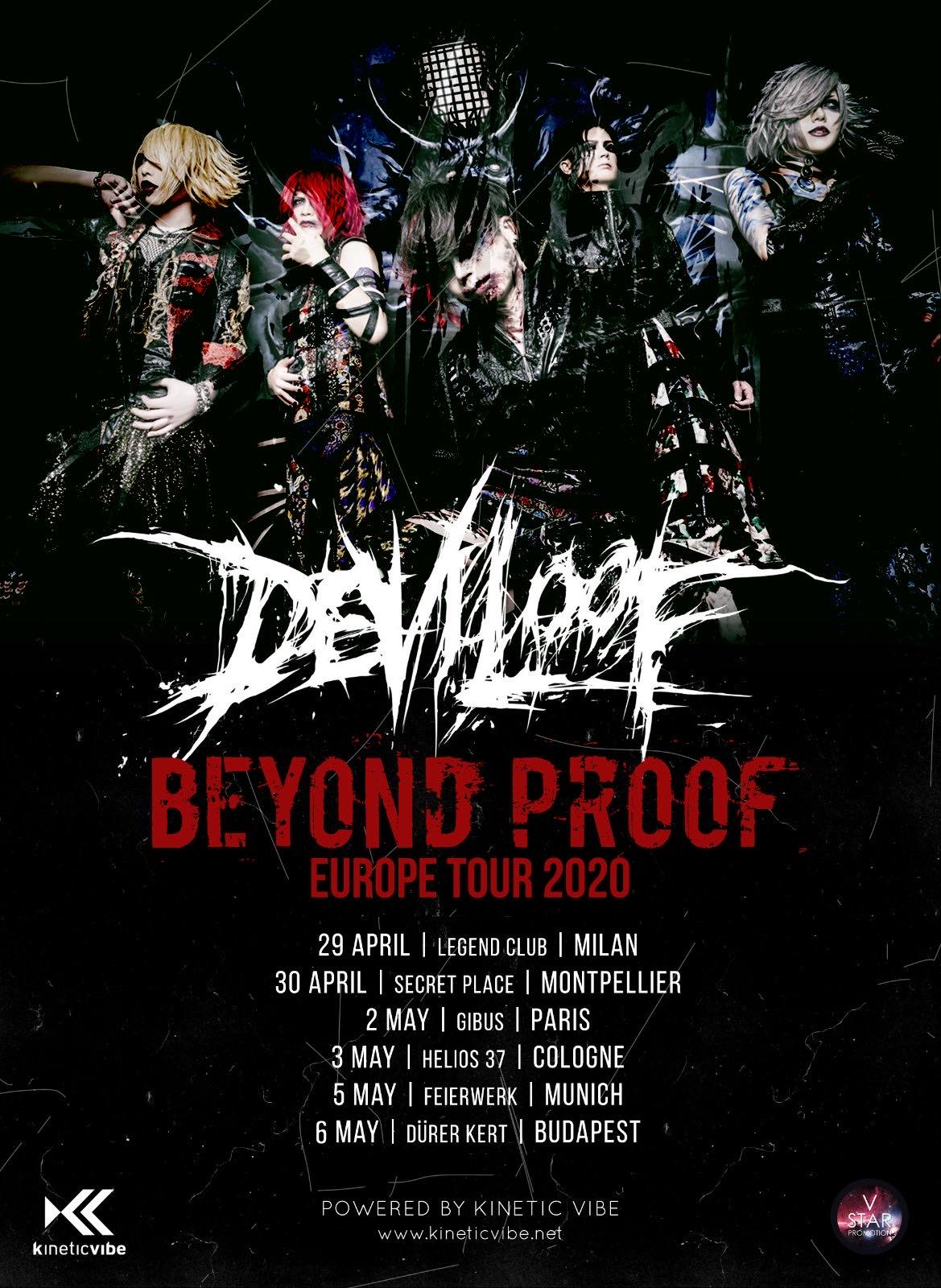 Kinetic Vibe and V STAR PROMOTION are happy to present Japanese deathcore band DEVILOOF European Tour 2020 - 'BEYOND PROOF'.
KineticVibe

Organizer of DEVILOOF "BEYOND PROOF" EUROPE TOUR 2020 - Budapest

Kinetic Vibe will be the explosion of this vision with our main concept and mission being to create high emotional impact events, following progress with passion. We are always going to provide our audience a great emotion FIRST, with related products and services.
Event expired
Event is in progress
Location
Dürer Kert, Ajtósi Dürer Sor 19-21, Budapest, Hungray
Schedule

Guests

Attendance

Forecast

Comments
DEVILOOF
Deviloof, consisting of Keisuke on vocals, Ray and Aisaku on guitar, Daiki on bass and Kanta on drums is a visual Kei deathcore band hailing from the land of samurais and sushi (Japan)! Having toured around Japan, Deviloof is now taking aim at Europe. From their first single release「Ruin」to their latest released album「Oni」their music mixes many different sounds and styles and should not be missed by any music lover or metal connoisseur. The hardest, fastest, and most brutal visual kei band, Deviloof gives heavy metal a cultural twist. Their striking visuals and deep lyrics have garnered worldwide attention, ensuring fans of the genre that they are much more than just pretty boys playing metal.
Weather data is currently not available for this location
Weather Report
Today stec_replace_today_date
stec_replace_current_summary_text
stec_replace_current_temp °stec_replace_current_temp_units
Wind stec_replace_current_wind stec_replace_current_wind_units stec_replace_current_wind_direction
Humidity stec_replace_current_humidity %
Feels like stec_replace_current_feels_like °stec_replace_current_temp_units
Forecast
stec_replace_date
stec_replace_icon_div
stec_replace_min / stec_replace_max °stec_replace_temp_units
stec_replace_5days
Powered by Forecast.io