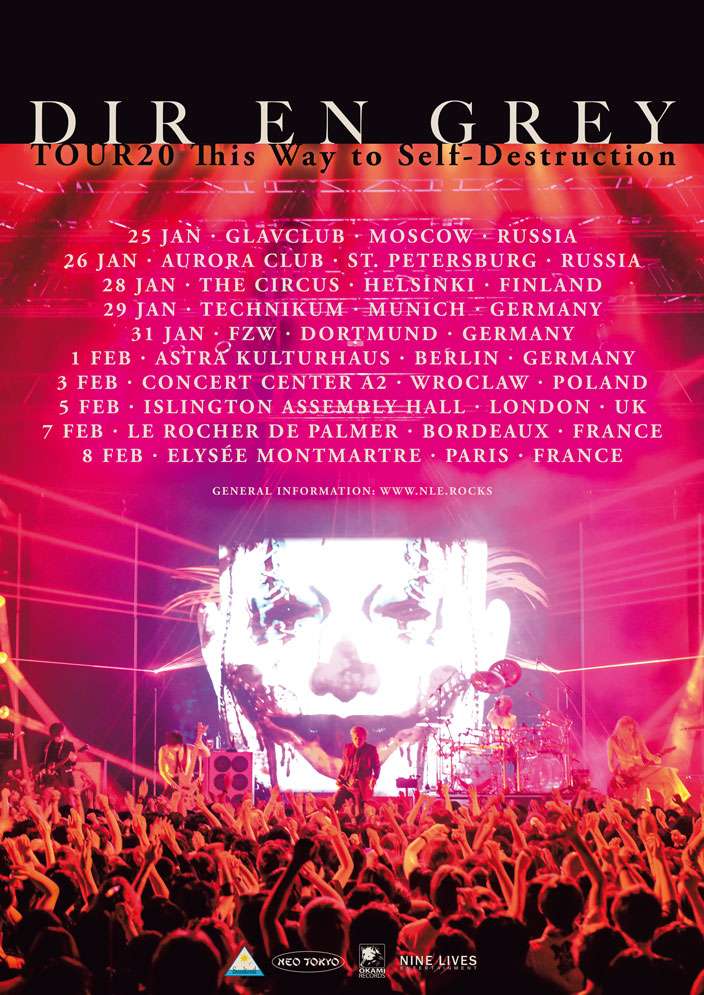 DIR EN GREY
are going to conquer European realms once more with their
TOUR20 This Way to Self-Destruction
. Only a bit more than a year after shaking several countries to the core on last year's
TOUR18 WEARING HUMAN SKIN
, the masters of the bizarre, the uncommon, and the uncanny are returning to Europe to reclaim the stages with full force!
From January to February, 2020, DIR EN GREY will be proving one more time that they can go even harder, facing the stages and their fans head on with a selection of their energetic and powerful songs.
On September 18th, 2019, the band released their latest single The World of Mercy—available worldwide—, simultaneously dropping a sinister take on bullying with the song's music video. Check it out!
Tour dates TOUR20 This Way to Self-Destruction

01/25 – Glavclub, Moscow, Russia
01/26 – Aurora Club, St. Petersburg, Russia
01/28 – The Circus, Helsinki, Finland
01/29 – Technikum, Munich, Germany
01/31 – FZW, Dortmund, Germany
02/01 – Astra Kulturhaus, Berlin, Berlin
02/03 – Concert Center A2, Wroclaw, Poland
02/05 – Islington Assembly Hall, London, UK
02/07 – Le Rocher de Palmer, Bordeaux, France
02/08 – Elysèe Montmartre, Paris, France