SOKONINARU - COMPLICATED SYSTEM EUROPE TOUR 2020 - Neuchatel
2020MarchMar 11 00:00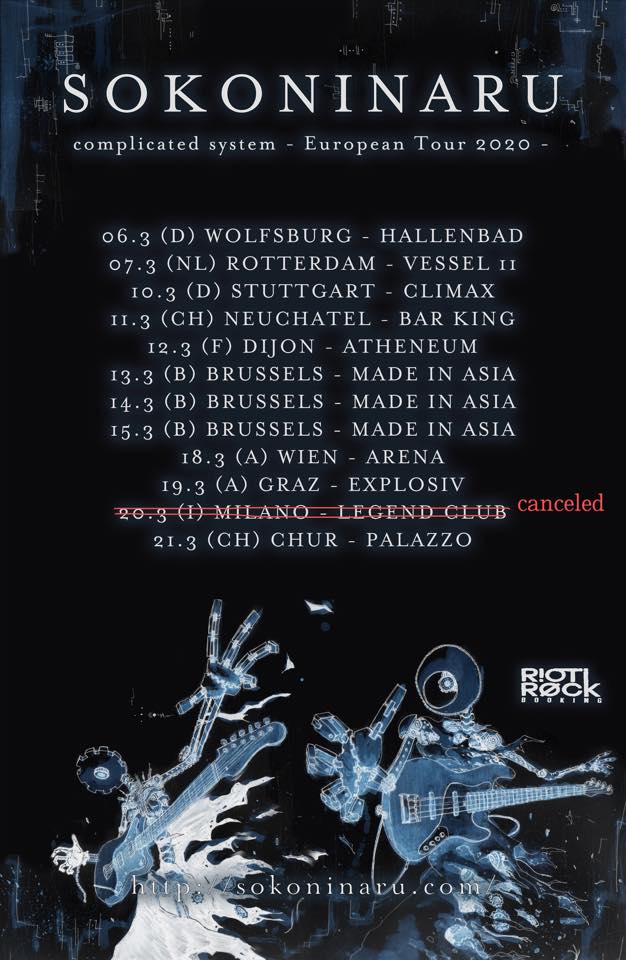 The post rock band SOKONINARU from Osaka goes with their Complicated System Europe Tour 2020 on tour.
With the harmonic mix of Juko Suzuki and Misaki Fujiwara male and female voices SOKONUNARU create their own dynamic and powerful rock sound. They were formed in 2011. Since then they releases five EPs, the latest called 「re:program」from 2018.
Event expired
Event is in progress
Location
King Bar, Rue du Seyon 38, Neuchâtel, Switzerland
Schedule

Guests

Attendance

Forecast

Comments
SOKONINARU
Sokoninaru are a highly skilled three-piece Japanese band with a progressive heavy-rock sound. Mixing male & female vocals, they are a dynamic and powerful rock band, with a unique sound that will delight heavier rock fans. Their unique & incredible performances are highly acclaimed both in Japan and abroad.
Weather data is currently not available for this location
Weather Report
Today stec_replace_today_date
stec_replace_current_summary_text
stec_replace_current_temp °stec_replace_current_temp_units
Wind stec_replace_current_wind stec_replace_current_wind_units stec_replace_current_wind_direction
Humidity stec_replace_current_humidity %
Feels like stec_replace_current_feels_like °stec_replace_current_temp_units
Forecast
stec_replace_date
stec_replace_icon_div
stec_replace_min / stec_replace_max °stec_replace_temp_units
stec_replace_5days
Powered by Forecast.io