SCANDAL 'Kiss from the darkness' World Tour - London
2020SeptemberSep 06 00:00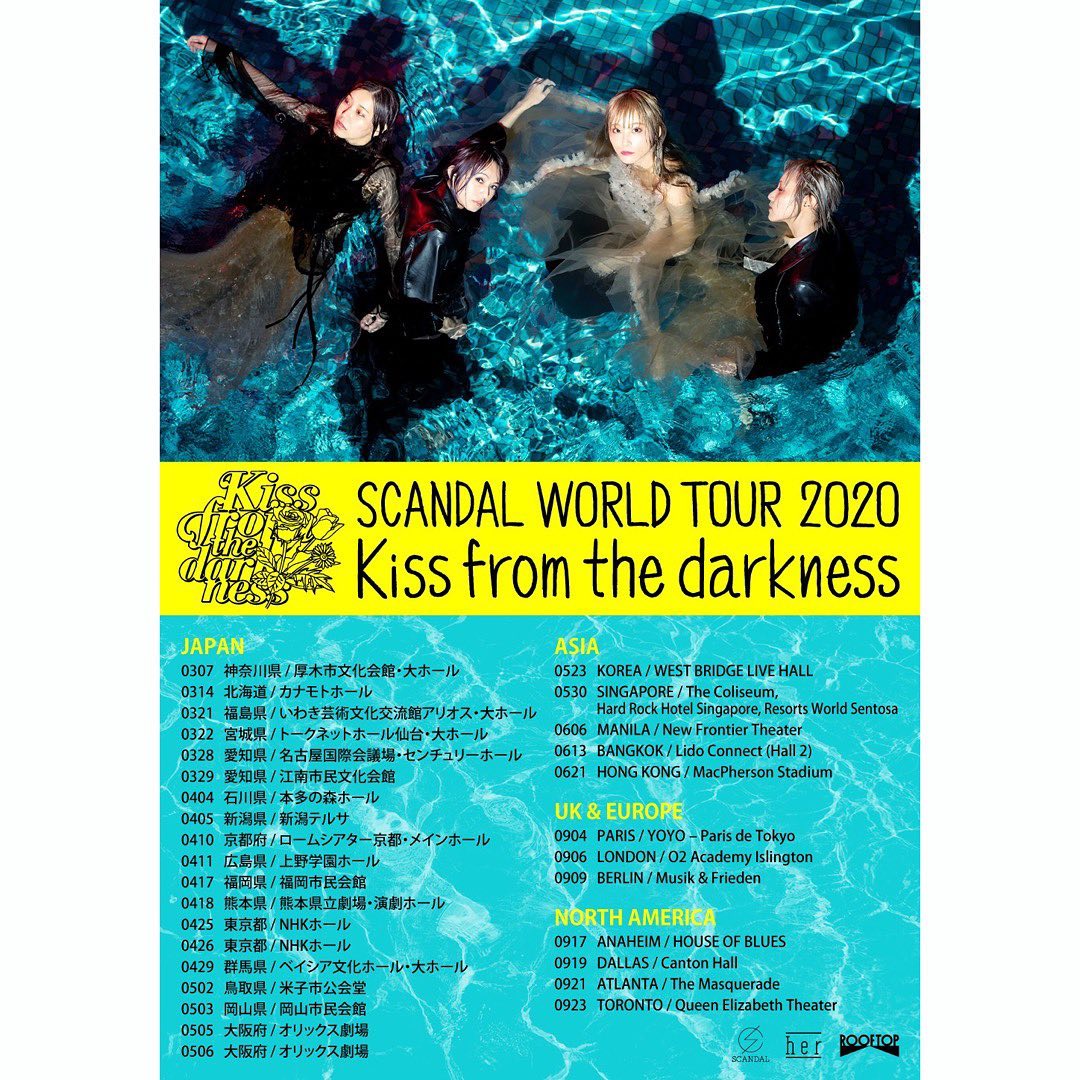 The four girls from SCANDAL are back with their Album 'Kiss from the darkness'. With the same tour name they are going to Asia, America and Europe this September.
Live Nation Entertainment

Organizer of SCANDAL 'Kiss from the darkness' World Tour - London

As the world's leading live entertainment company, they are privileged to work with artists to bring their creativity to life on stages around the world. Whether it's two hours at a packed club, or an entire weekend of sets at a festival, a live show does more than entertain. It can uplift, inspire and create a memory that lasts a lifetime.
Event expired
Event is in progress
Location
O2 Academy Islington, N1 Centre 16 Parkfield St, London, Untied Kingdom
Schedule

Guests

Attendance

Forecast

Comments
SCANDAL
SCANDAL was formed in August, 2006 with four high school girls who went to the same vocal & dance school in Osaka, Japan. They started performing as SCANDAL with aggressive sounds with pop characters. After it was formed, they often performed on the street of they called Shiroten in Osaka Castle Park. After a while, they started performing at the live house in Kansan area.In March 2008, they were invited to Japanese culture convention Sakura-Con in Seattle, and they went around six cities in the U.S to see over 7,000 fans of them. In July 2008, they generated 10,000 people to Japan Expo in France and 8,000 to Anime Comic Fes in Hong Kong in August. In October 2008, they released "DOLL" as their debut single. "DOLL" was rewarded for Power Play from over 40 FM/AM/CS radio stations in Japan. In June 2009, they released their 3rd single "Shoujo S", and it was ranked 6th in the first week on Oricon chart, and 5th on Reco-choku Chakuuta Full (Full digital download provider) weekly chart. On October 21st, they released their first album "BEST★SCANDAL" and ranked 5th on Oricon chart in their first week of the release. For the girls band's album to be awarded within 5th in their first week of the release was the first time in 7 years and a half. In 2009, they were rewarded for New Face Award from Japan Record Award. - New Artist Their 7th single "Shunkan Sentimental" a tie-in song with the smash-hit animation series "FULLMETAL ALCHEMIST", has again scored high on the charts. #7 on ORICON and #4 on the Reco-choku full (full track download) chart. They released their 2nd album "TEMPTATION BOX" in August 2010, and this was awarded 3rd place on Oricon daily chart. In October, "Scandal nanka Buttobase" was released, and awarded 3rd place on Oricon weekly chart, the highest ranking on Oricon weekly in their history ever. In April 2011, single "HARUKA" was released and it also ranked #3. In August 2011, their 3rd original album "BABY ACTION" was released, followed by "VIDEO ACTION", 1st video clip collection DVD. They also went on Asia tour, first tour outside Japan, and gathered 2,500 audiences from Taiwan, Hong Kong, and Singapore. In March 28 2012, SCANDAL held the concert in Nippon Budokan, one of the high status venues in Japan. The band released a single "Taiyou Scandalous" in July 2012, and charted No.2 at Oricon weekly ranking. SCANDAL will be releasing a new single "Pinheel Surfer" and eagerly-awaited 4th album "Queens are trumps- Kirihuda Wa Queen-" on Sept.26. On March 3 2013, SCANDAL will be performing at Osaka Castle Hall, a venue with a capacity of 16000 people which they've ever dreamed of for a long time. The band will be performing in Malaysia on December 2012 for the first time. We can expect their activities more in the near future!
Weather data is currently not available for this location
Weather Report
Today stec_replace_today_date
stec_replace_current_summary_text
stec_replace_current_temp °stec_replace_current_temp_units
Wind stec_replace_current_wind stec_replace_current_wind_units stec_replace_current_wind_direction
Humidity stec_replace_current_humidity %
Feels like stec_replace_current_feels_like °stec_replace_current_temp_units
Forecast
stec_replace_date
stec_replace_icon_div
stec_replace_min / stec_replace_max °stec_replace_temp_units
stec_replace_5days
Powered by Forecast.io