MUCC 2020 LOCK ON SNIPE TOUR - Berlin
2020AprilApr 08 00:00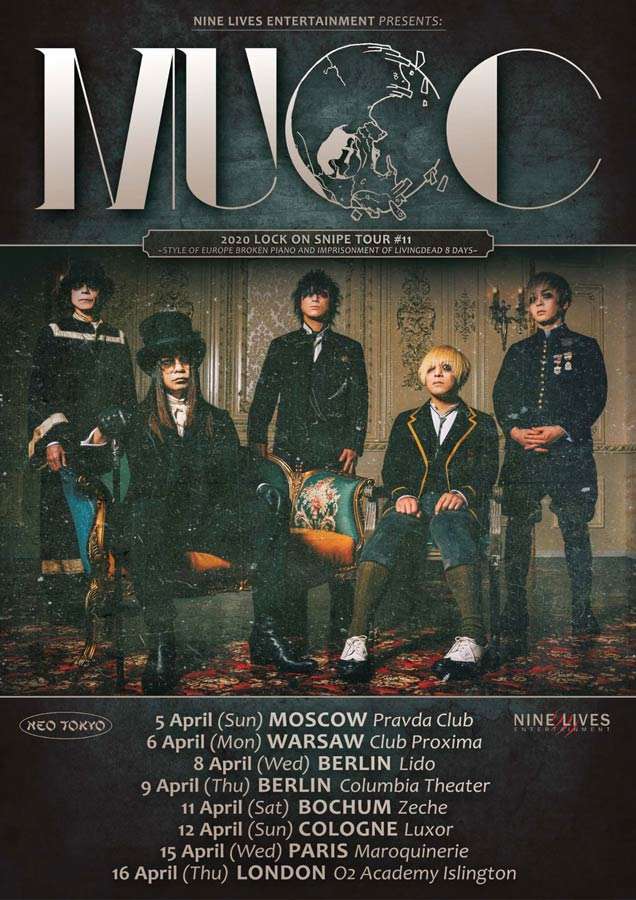 After 5 years MUCC finally return to Europe to rock the old world once more! For the first time as a 5-piece band with Toru on keyboards.
Brace yourselves for MUCCs legendary sound and live performance!
NINE LIVES ENTERTAINMENT

Organizer of MUCC 2020 LOCK ON SNIPE TOUR - Berlin
Event expired
Event is in progress
Location
Lido Club, Cuvrystraße 7, Berlin, Germany
Schedule

Guests

Attendance

Forecast

Comments
MUCC
MUCC is a 4-piece Japanese rock band with Tatsuro on vocals, Miya on guitar, YUKKE on bass and SATOchi on drums. With all of the members participate in creating MUCC's songs, their heart penetrating lyrics of yearning in the lyrics and soul penetrating sounds of powerful music have attracted much attention for such well-depicted expressions of the uniquely unstable emotions of today's young generation. MUCC has performed 650+ lives in and outside of Japan. After their first solo live at Nippon Budokan in 2006, MUCC came back to Budokan in 2011 to successfully hold 2-day solo lives with a total audience of 150,000. MUCC also reached out to the world and performed 100+ lives in total. They have been active especially in the music scenes of Europe and Asia that they hold solo lives in these regions regularly. MUCC has established a strong presence in the rock scene with their overwhelmingly powerful performance and emotional expression in various genres of music including loud rock, folk tunes, nostalgic pop tunes and electro sounds. Lately, MUCC has taken on a new challenge in different genres such as electro sounds and yet, through the new challenges and experiments, they're still capable of keeping their originality in lyrics and emotions of nostalgia alive in the new forms of their music. Such spirit of challengers continues individually as well with Miya(Gt.) being active as a DJ and Tatsuro(Vo.) hosting a radio program on TOKYO FM for 2 years. Although MUCC is categorized as a 'visual-kei band,' the spirit of challengers is clearly reflected both in their genre-breaking music and borderless activities that you probably can't stop wondering, "Is MUCC really a visual-kei band?" You can only prepare yourself for another surprise that MUCC will bring out in the future because it may be even more different than anything else they've presented so far.
Weather data is currently not available for this location
Weather Report
Today stec_replace_today_date
stec_replace_current_summary_text
stec_replace_current_temp °stec_replace_current_temp_units
Wind stec_replace_current_wind stec_replace_current_wind_units stec_replace_current_wind_direction
Humidity stec_replace_current_humidity %
Feels like stec_replace_current_feels_like °stec_replace_current_temp_units
Forecast
stec_replace_date
stec_replace_icon_div
stec_replace_min / stec_replace_max °stec_replace_temp_units
stec_replace_5days
Powered by Forecast.io