G.L.A.M.S TWILIGHT AFTER THE RAIN EUROPE TOUR 2020 - Liège
2020MarchMar 01 00:00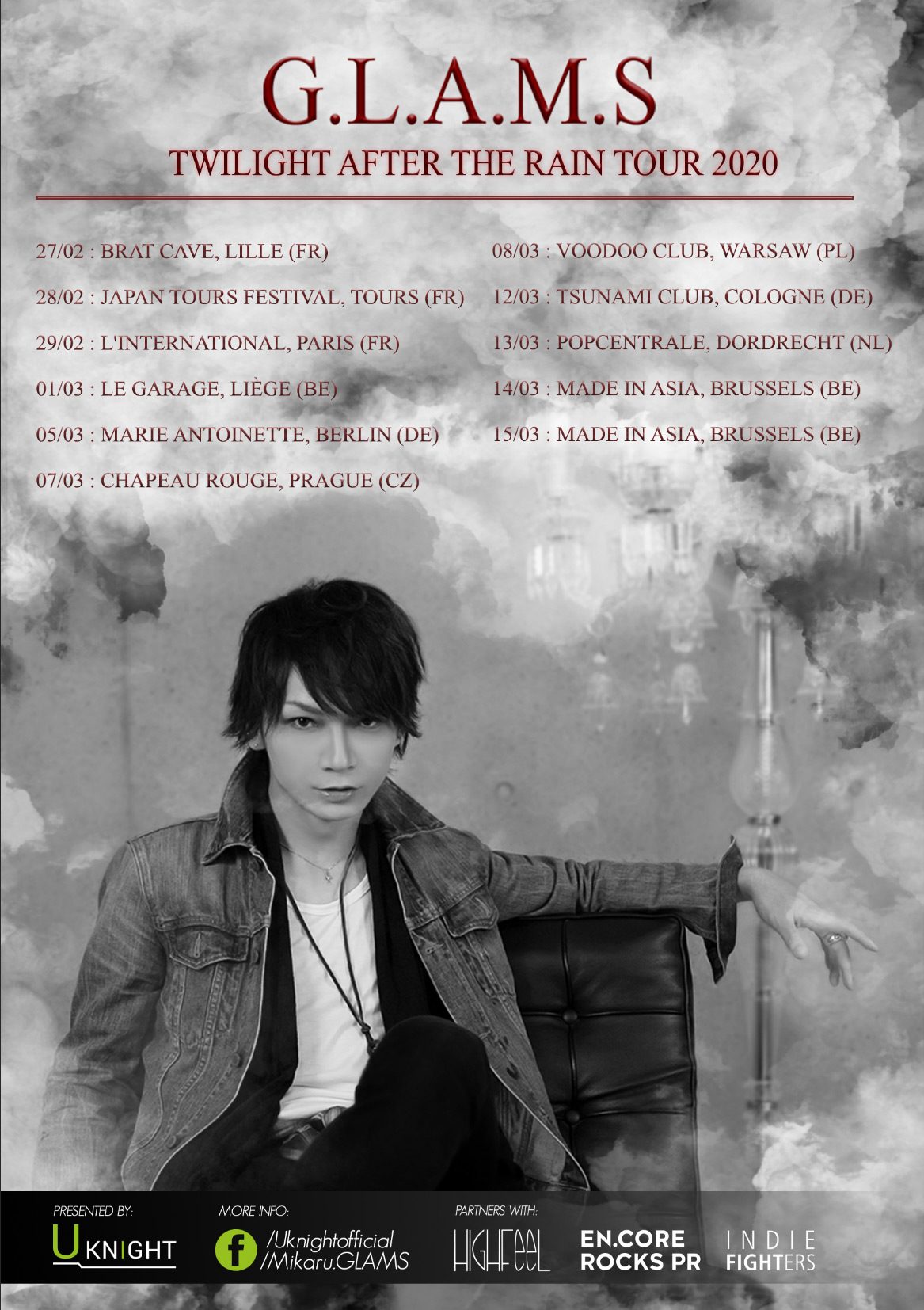 Passionate Rock storyteller Mikaru is setting sails to return to Europe with his multidisciplinary art project G.L.A.M.S. On board to embark for the TWILIGHT AFTER THE RAIN Europe Tour 2020 is his undaunted crew, guitarist Yudai, bassist Tetsuto, and drummer/DJ Syu.
Regular guests in European realms, the four musicians are set out to indulge the fans with unforgotten melodies and the new songs from G.L.A.M.S' upcoming forth mini album TWILIGHT AFTER THE RAIN, which will be released on the first day of the tour on February 27th! Inspired by Mikaru's recent feelings and ranging from despair and grief to hope for the future and true freedom as well as love and lust, each song of the new album has its own story. »The world, places, and characters are all different«, says Mikaru and adds mysteriously: »But interestingly, none of them are me.«
The singer-songwriter and born performer from Tokyo, Japan is excited to reunite with his European fans in France, Belgium, Germany, Czech Republic, Poland, and the Netherlands. »Our shows are pure entertainment and I want you to feel the emotions right in the moment. Let's become one and be led by my music together!«
Uknight

Organizer of G.L.A.M.S TWILIGHT AFTER THE RAIN EUROPE TOUR 2020 - Liège

Uknight supports & organises music tours. We also help promoting artists that want to play across Europe.
Event expired
Event is in progress
Location
LE GARAGE CREATIVE MUSIC, 27 rue Marengo, Liège, Belgium
Schedule

Guests

Attendance

Forecast

Comments
G.L.A.M.S
Mikaru (G.L.A.M.S) is a singer-songwriter from Tokyo, Japan, well-known for having been the leader and vocalist of the bands DIO – Distraught Overlord and Black Line. He started his multidisciplinary art project G.L.A.M.S at the end of 2013 and is active as a musician, painter, and jeweler. »The word G.L.A.M.S alone has no meaning, but I am like a diamond in the darkness. My fans are the light that shines on me, so everybody can see me, because I am shining like a diamond.«—Mikaru, G.L.A.M.S
VII ARC
Since the end of 2014, the German 'Visual Metal' act VII ARC has been offering their audience and their fans, the 'Arcoholics', an unmistakable show: tough Metal sound is presented in a dark look with dramatic passion and dedication. The texts deal with human weaknesses, failure and inner fears - but also with the hopes and dreams that everyone carries within them. With over 80 shows, VII ARC have performed at Gamescom, Dokomi and Chizuru Convention, among others, and also supported Japanese Visual Kei bands such as MORRIGAN and JUPITER on their European tours. The latest EP "ATONIA - The Void of Tartaros" is available on all streaming platforms, along with the previous releases. The next single "PHLEGMA" will be released in spring 2020 with a music video shot in a horror theme park in Germany. In April, VII ARC and the metal bands SEMBLANT (BR) and AS I MAY (FIN) go on their second European tour with concerts in Southern and Eastern Europe. Furthermore, VII ARC will support the Japanese rockers G.L.A.M.S and the Deathcore band DEVILOOF on additional dates from March to May 2020.
FELO DE SE
Felo De Se is a Belgian band of Melodic Death Metal, clearly influenced by Finnish bands as Wolfheart or Insomnium. The music combines acoustic melodies and harshness of Death Metal. Felo De Se was initially founded as a one-man-band during summer 2016. In early 2017, Joachim Kinet, band's founder, released the first EP, "Fidelis In Se", consisting of five tracks. A short time later was revealed an acoustic version of "Fall of Ikaros", EP's second track, on YouTube. In the beginning of 2018 new members joined the crew: Lionel Delmay (lead guitar), Benoit Hogge (drums), Innokenty Gritskevitch (bass guitar). They have all ambition to take band's music to a new level.
Weather data is currently not available for this location
Weather Report
Today stec_replace_today_date
stec_replace_current_summary_text
stec_replace_current_temp °stec_replace_current_temp_units
Wind stec_replace_current_wind stec_replace_current_wind_units stec_replace_current_wind_direction
Humidity stec_replace_current_humidity %
Feels like stec_replace_current_feels_like °stec_replace_current_temp_units
Forecast
stec_replace_date
stec_replace_icon_div
stec_replace_min / stec_replace_max °stec_replace_temp_units
stec_replace_5days
Powered by Forecast.io